Nnamdi Kanu, leader of the Indigenous People of Biafra (IPOB), has said that "the only crime he committed was seeking for freedom for his people".
POLITICS NIGERIA reports that Kanu's brother, Emmanuel 'Meme' Kanu, stated this on Thursday after his visitation to the IPOB leader where he is being detained at the Department of State Services (DSS) headquarters in Abuja.
"Just visited the Alpha Male Ipob leader Mazi Nnamdi Kanu at the DSS Abuja. He said that If you believe in freedom and have dedication and pride – and never quit, you'll be a winner. He said, the only crime he committed was seeking for freedom of my people," Emmanuel wrote on his known Facebook page.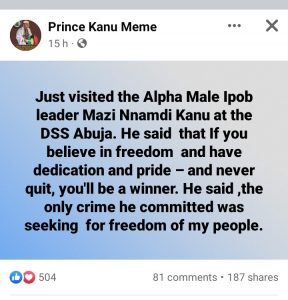 For years, IPOB has been agitating for the separation of southeastern Nigeria, which is home to the Igbos.
A previous attempt by the region to break away as the Republic of Biafra led to a 30-month-long bloody civil war from 1967 to 1970.
Diaspora-based Kanu is one of the Igbo activists leading the charge for a sovereign nation of Biafra, saying the Igbos have been marginalised for so long. Now, he is charged with treason by the Nigerian government.